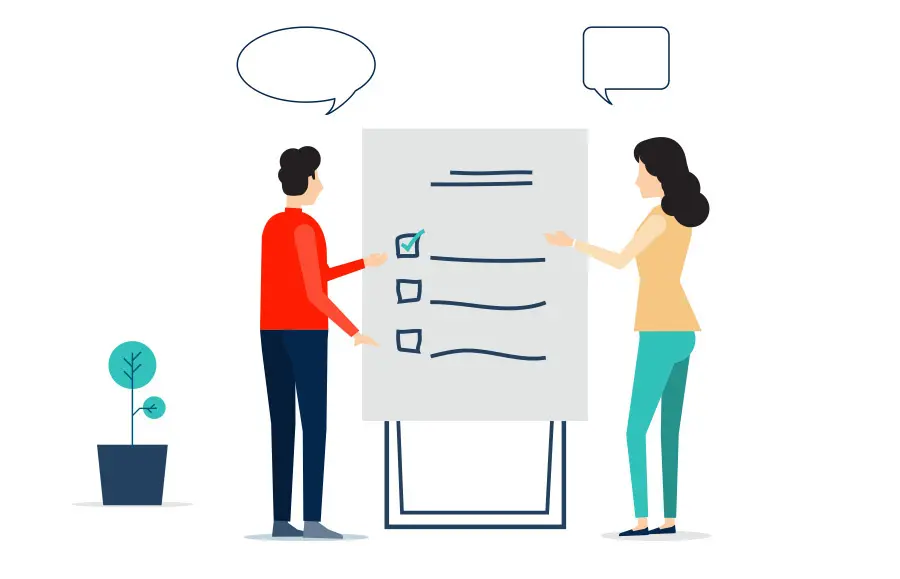 In the world of online businesses, choosing the right domain name for your website is the key to success. The right domain name could be a crucial factor. Placing a website on an unsuitable domain name could lead to problems as the business gains momentum. So, you need to think carefully and spek to a pro when you are chosing your unique domain name for your website to stand out in the online marketplace.
There are more than 2 billion websites available online so the competition to register a domain name is really tough. You may need to hustle a lot to find the right domain name and register it. Are you thinking where to start? Or how to choose the domain name for your new website? In this blog, we are going to the top 6 tips to register domain name for your website.
What is a Domain Name?
A domain name is the address of your website that people type in the browser's address bar to visit your website. In other words, it's the address to a building while the building has a specific name. Therefore you have to be creative and very smart when choosing a suitable domain name for your website as it will help with your branding and traffic volume.
Search domain name - The perfect space for your website to reside in order to scale your business effectively.
Top 6 Tips to Register a Domain Name for Your Business
The following are some of the best tips to register domain names:

Brainstorm Your Business To Choose A Domain Name
Brainstorming your business is one of the most productive ways to find a domain name for your business. You can ask for ideas from your friends, family, or your business partners. Before moving to any of the next steps, finalizing a domain name is a must. Moreover, you can use Google to see if any business domain names are similar to the ones you're considering. You can't register a domain name that already exists. Also you should not register one that is almost idential to another, thinking that you could piggy-back off the success of another business in the future. Do proper research and make informed decisions.
Most importantly, do validate if the name you choose matches your brand or not. Because it has a major impact on the brand loyalty of your potential customers. Having a domain name that matches your brand name will portray a sense of relatability to potential customers.
Check If your Domain Name & Extension is Available or Not
After you have a list of a few potential domain names, it's time to check if they are available or not. Use the domain name search tool on our website to search availability.
Now, one more thing you need to consider is which extension to go with. We would recommend you go with .com.au if you are an Australian Business. Or .au. These are the best for Aussies to remember among all other extensions available. Also consider .com if you plan to be an international brand. There is no limitation for this; you can opt for other extensions too. Most people in Australia presume that a website name ends with .com.au because that's what they're most familiar with.

Make a Decision of Purchasing the Domain
This is also an important aspect to consider while going through the process to register a domain name. You can choose the purchase period for the domain name. This decision of the length of time depends upon your business goals. If you have plans to shift your business or even change the name, then purchasing the domain for many years would not make sense.
One thing is true, when you purchase a domain, no one can take it from you for the period of time that you have registered it. You'll need to take care of your payment methods and email on file with your registrar so when the renewal date of your domain arises, you are contactable. With BlueSoap, you can choose auto-renew in the your BlueSoap control panel. With this, we will automatically renew your domain name so it doesnt run the risk of expiring without your knowledge. Should you lose your domain, it could harm your brand enormously, reducing the search engine rankings and other SEO concerns.

Always Value Adding Keywords to Your Domain Name
Keywords in domain name can play a positive role in your website's rankings, so use descriptive keywords where they fit. Try using the keywords that describe the products or services your business offer without making your domain name sound odd.
Nowadays, it is not easy to find a descriptive domain name that has your targeted keywords in, and is not already registered. You'll have to be creative at this point to achieve this. Gone are the days when people used to easily stuff keywords aiming to rank higher. Google's search engines analyze the usage of keywords and if the keywords are used irrelevantly, it does not help, and could even adversely affect your website rankings.

Keep Your Domain Short and Simple
Your domain name must be short and simple so that it is easily memorable. An ideal length for a domain name ranges from 6 to 12 characters. If you happened to have a domain name that exceeds this limit, we would recommend trying to shorten it iff possble. Additionally, users will also be prone to miss-type longer domains which will result in lost traffic, and also lost emails as your domain name is used in your email extension. Avoid using a long string of words and characters that an average consumer would find hard to remember. Moreover, avoid using hyphens or any symbols in your domain name because it will be hard for one to recall every next time they want to reach out to you. Avoiding doubled letters is also another aspect to make your domain easy to type and more brandable.

Use Domain Name Generator Tool
If by any chance you couldn't find a domain name, using a domain name generator isn't a bad idea. You can get thousands of clever domain name ideas for your website. It might take ages to decide if you keep on searching for domain names individually. Have a look in Google for a domain name generator tool. There are several free business name generator tools available online. You'll just need to provide keywords or your brand name and these tools which dig the best possible ideas for your domain.
Over to you now...
Got a great idea for your domain? Search domain name today and let us build an awesome new website for you. Also, remember to attach it to your social media profiles to help build your brand online. You can contact one of our most trusted web developers in Australia and get your domain name registration done.
Need advice for more domain name ideas? You can always count on us. Get in touch. BlueSoap always strives to help web development enthusiasts pave out of any complex web-related problems.